Olio Extravergine d'Oliva
Ferrari extra virgin olive oil comes from a blend made of 50% of leccino olive variety and 50% of canino olive variety. It is obtained by the cold process method, that gives the oil a mild and sweet flavor, with the lowest level of acidity, and a soft smell that reminds us mediterranean fragrances. It is well balanced, with a delicate taste that is never bitter but enough spicy.It has a fluid but consistent body. It is naturally made without any additives or chemical substances. This oil can be combined with all your dishes, from meat to pasta, fish or vegetables. It can also be an alternative to butter in desserts.
Ferrari EVO oil is available in glass or tin, in sizes from 0.100 ml up to 5 liters.
Discover more about Olio Extravergine d'Oliva
For more information, contact us.
Olio Extravergine di Oliva Aromatized
You can taste it alone or aromatized versions, with the addition of chili pepper, basilicum or lemon. These are the perfect ingredients to enrich all your dishes, making them special. Chili peppers olive oil is ideali f combined with pizza, tomato sauces, pasta, roasted or boiled meat, fish and vegetables. Basil olive oil is the ideal ingredient for any mediterranean dish with tomato. Lemon evo is the most delicate of all the aromatized olive oils and it is perfect if combined with roasted meat or fish, especially seafoods
It is available in glass from 0.25 ml.
For more information, contact us.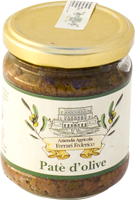 Patè di Oliva
The Ferrari Farm also suggests to taste its Olive oil spread, made 100% from olives without any other additives or artificial preservatives. It is mild bitter, sweet spicy, with a delicate and fruity aroma, typical of fresh herbs that grow in Italy.taste it on a slice of fresh baked bread or on a bruschetta, or also add it to spaghetti,or mix it with creamy cheese, you will rest breathless! Available in jar 200 gr.
See the recipe of spaghetti with olive patè. Pack 200 gr.
For more information, contact us.
Hazelnuts
Hazelnut is the nut of hazel, also known as filbert nut. It is a very caloric fruit; as a matter of fact it is rich of fatty acids, especially unsatured ones, vit E, K and minerals as potassium, calcium, phosphorus. It can be used in whole grain, toasted or raw, or chopped in different sizes. It can also be processed in spread or paste. Anyway, it is a precious ingredient in any dish, especially for desserts. So you can add it to cakes, cream, cookies but also in liquors or pasta.
The Ferrari farm only offers in shell hazelnuts.
For further informations, please contact us.